Interesting Person, Charlotte Hart
By Doris Jarrett
From the clippings of the late Elsie Johnson. This is a column which appeared in the Lexington Progress. Church schedules included as part of the column have been omitted.
Lexington Progress
June 22, 1988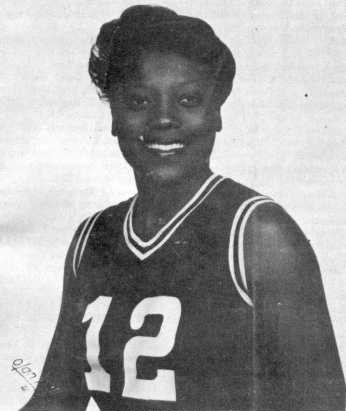 In a recent issue of The Unionite, a publication of Union University, Jackson, a full column was given praising Charlotte Hart of Lexington. She was a member of the May graduating class there after having four years of outstanding basketball honors. Charlotte, a Lexington girl, was rated by her Union basketball coach, David Blackstock, as "All American" and stated that during her four years at Union the term All American and Charlotte Hart have been synonymous. On March 23 of this year, Charlotte became only the 2nd female athlete in the nation to be named to the All-American teams 4 straight years and 1st Union player to receive first-team all-American status. Her #12 jersey has been retired at Union - no one else will wear it.
Charlotte is five feet, nine inches tall. She played basketball at Lexington High School and was acclaimed by Coach Richard Foster as "one of the best, if not the best player, I ever had." In high school, she was named All District in 1983-84; All Regional 2 years straight; Honorable Mention All State 1984; All West Tenn.; West All-Star and AAU in 1984; CJ's All Star Team. Scholastically, she ranked 12th in her senior class of 229, belonged to the Honor Club and Beta Club. In 1982,83 and 84, she was named MVP, in 1981-82, she received the Free Throw trophy and again in 1982-83. Her total career points in high school totaled 1,386 with a career average of 17.9 points per game.
She is the daughter of John and Betty Hart arid has three brothers, Gavin, Harwood and Junior Hart of the Bargerton community. She attended Bargerton Elementary School. At Union, she has majored in Office Administration with a minor in Business Administration. She was named to the 20 member NAIA Scholar-Athlete Team, to which only juniors and seniors who carry a 3.4 GPA or better are eligible. She led the Union Lady Bulldogs to four conference championships and two district championships. In her four years at Union, Charlotte averaged 19.2 points per game and is Union's 2nd all-time scoring leader with 2,339 career points. She ranks first in steals with 368, 2nd in career assists and also in free throws made, 3rd in field goals made, 6th in rebounds and is tied for 1st in games played in a Union uniform. Coach Blackstock calls her "team oriented" in that she had rather see her team do well and win, than do well as an individual. She was named District Player of the Week 7 times. Her list of athletic honors received during her college years, and her school record is most impressive.
She will be missed at Union just as she was missed after high school graduation here, but Coach Blackstock says that she can be happy knowing that her sense of play made all her team mates better for having played with her.
We extend congratulations and wish continued success as she chooses a career!