CLIPPINGS SAVED BY THE LATE ELSIE JOHNSON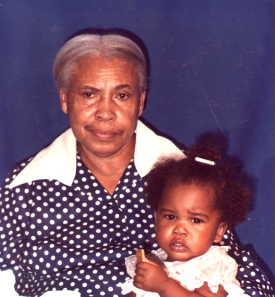 Elsie Johnson with Great Grandaughter
Dawn Nicole Parham
The late Elsie Johnson of Lexington saved a number of newspaper clippings about events in the Henderson County black community. These clippings are pasted in or inserted loose into two scrapbooks.
The older scrapbook has clippings ranging from 1957 to 1964, including community news, obituaries, and birth announcements. The newer scrapbook has fewer items, mostly undated. Those items which can be dated range from 1973 to 1989.
Items from the 1957-1964 scrapbook have been completely scanned and are listed below. Items from the 1973-1989 scrapbook are partially scanned. Additional items will be posted soon.. (Some non-local items in the scrapbooks have been omitted.)
Special thanks go to Patty Lee (Miller) Parham who now owns her grandmother's scrapbooks and has generously loaned them for scanning.