ODDS AND ENDS
From the clippings of the late Elsie Johnson. This is a column which appeared in the Lexington Progress. Church schedules included as part of the column have been omitted.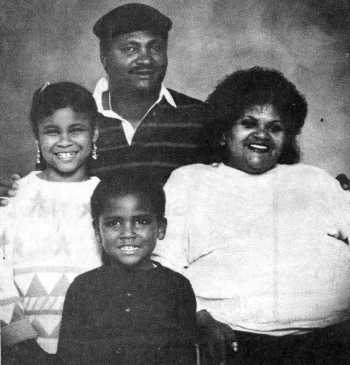 ELECT
Kathy Dabbs
Reese
City of Lexington's
BOARD OF ALDERMEN
Thursday, September 14, 1989
Born, reared and educated in Henderson County
Honor Graduate - B. S. Tennessee State, M.S.W. Washington University, Continued studies in Social Work and Law
Family Therapist and Case Work Manager in the State of Illinois
Charter Member and past Board President of Big Brothers/Big Sisters of Southwestern IL
Experience in public relations, grant proposals, budgeting, consultation, and administration
Married 13 years to J. Monroe Reese; 2 children - Idesha, 10 and J. R., 5
Charter Board Member of Lexington Optimist Club
Member 911 Board
Caywood School PTO
Montgomery High Alumni Assoc.
National Spinal Cord Assoc.
Living Life on Wheels Support Group
Washington University Alumni Assoc.
Tennessee State Alumni Assoc.
Listed in Who's Who is Black America 1989
"As a candidate for the Lexington City Board of Aldermen, I pledge my every effort to serve all the citizens of Lexington. Since my spinal cord injury and my return to Lexington in 1986, I have seen the need for individuals to aid this city and its citizens as they strive for progress. My previous experience and the time and energy I have to devote to this position I believe make me a HANDICAPABLE candidate."
Your Vote Is Appreciated
---
Murder victim found in 1-40 motel bathtub
Lexington Progress
Date Unknown
By David Anderson
Authorities continue to search for the identity of a man found Sunday afternoon brutally murdered in a Parkers Cross Roads motel room. As of press time Tuesday evening, law enforcement officials had not identified the victim and continued to search for two men reportedly seen with the victim Saturday night. The Henderson County Fire Department responded to a call Sunday afternoon at about 1:30 reporting smoke coming from Room 20 at the Best Western Crossroads Inn. A motel employee found instead that it was steam coming from the flooded room and discovered the body of the man when he went to the bathroom to turn off the hot water. The victim was found face down in the tub with his hands behind his back. Bed sheets were used to bind his neck, wrists and ankles and also to tie him to the handle of the bathtub soap dish.
The Tennessee Bureau of Investigation has joined the Henderson County Sheriff Department and County Coroner Warren Ramer Jr. in investigating the case. The body has been sent to the State Medical Examiner's Office in Memphis and evidence to the State Crime Lab.
The victim is estimated to be about 60 years old, weighing 220 to 240 pounds with gray hair. His pants, shirt, sweatshirt and shoes were found on the bathroom floor and a light-colored, windbreaker jacket w a s found hanging on the inside door knob of the entrance door. The room did not appear ransacked, one of the two double beds was rumpled but the carpets were saturated with water.
According to reports, the victim had registered Saturday night as Tuck Kelly from Nashville but the car tag number he registered was incomplete and unable to trace. Three people were believed to be in the party, with two men estimated to be from 20-30 years old accompanying the victim. The three were reported to have eaten at Johnny Shiloh's Restaurant Saturday evening and witnesses believe they were in a light colored Cadillac. The car and any other belongings he might have had are missing.
Authorities have issued watches across the southeast for subjects and vehicles fitting the descriptions. The two men were reported to be tall and fairly thin.
Occupants in a neighboring room reportedly noticed a wet floor at about 8 a.m. Sunday.
The cause of death has not been determined.
---
Police seek two in river
Source Unknown
Date Unknown
Two people are believed to have drowned Saturday in West Tennessee and officers were working late Saturday night trying to recover the bodies, according to reports.
An unidentified 10-year-old Hardin County girl drowned Saturday afternoon in the Tennessee River, just below the Savannah bridge, according to the Hardin County Sheriffs Department.
The girl had been swimming with a life jacket on but the jacket came off and she drowned, said a spokesman for the sheriffs department.
The Hardin County Rescue Squad was still searching for the girl at 9:30 Saturday night.
A man was believed to have drowned at Beech Lake about 8 p.m. Saturday night, according to the Lexington Police Department.
The department was "90 percent sure" they had a drowning, said a spokesman for the department. Police did not know the identity of the victim.
The department received a call at about 8:07 Saturday night saying the man had gone swimming about 10 minutes before and the caller hadn't seen him since, according to reports.
The Henderson County Rescue Squad was still diving for the man at about 10 p.m. Saturday night and additional air tanks and help was on route from the Carroll County Rescue Squad.
---
Discarded infant dies
Source Unknown
Date Unknown
NASHVILLE (AP) - An infant boy died Friday of brain injuries, five days after being found wrapped in towels at the bottom of a six-story trash chute at Tennessee State University, hospital officials said.
The 6-pound, 3-ounce baby died at 11:24 a.m. in the neurological intensive care unit at Vanderbilt University Medical Center, hospital spokesman Bill Hance said.
He released a statement saying the family of the infant hoped to donate the child's organs "in order that the gift of life be passed to others."
The child had been on life support systems, but hospital officials would not say if they had been unhooked.
Even before the baby was declared dead, police issued a murder warrant against the mother, Barbara Trapp, 23, a student at TSU. She was in Meharry-Hubbard Hospital, reportedly under close watch in a psychiatric ward.
The infant had been found Sunday by a janitor at a women's dormitory at TSU.
Officials at the medical center had described the child Thursday as brain-dead.
---
Airman graduates from Lackland
Source Unknown
Date Unknown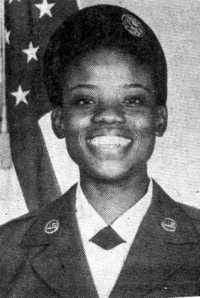 Airman Theresa A. Sparks, daughter of Vernell and Allie M. Arnold of Rt. 1, Lexington, has graduated from Air Force basic training at Lackland AFB, Texas.
During the six weeks of training the airman studied the Air Force mission, organization and customs and received special training in human relations.
In addition, airmen who completed basic training earn credits toward an associate degree through the community college of the Air Force.
Her husband, Jason, is the son of Willie and Katherine Sparks of Rt. 1, Parsons.
The airman is a 1984 graduate of Lexington High School.
---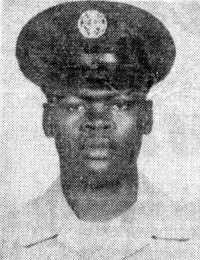 AIRMAN DENNIS E. CALDWELL
, son of Mrs. Isabella Caldwell, Rt. 1, Luray, has completed basic training at Lackland AFB, Tex. He is remaining at Lackland for training as a security policeman. Airman Caldwell attended high school in Lexington.
---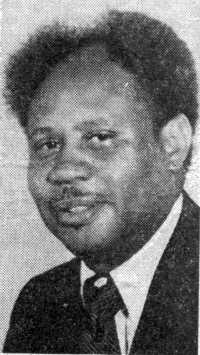 John Werthing