Family Reunion at Hinson Springs - 1931
from the collection of Bill Jones
click here for a larger image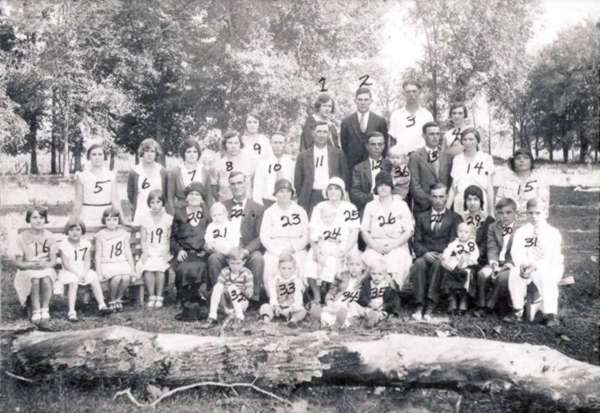 click here for a larger image
1. Lillian Dickson Blankenship. wife of Alvin 2. Alvin Uliss Blankenship. son of Eliss 3. Jesse John Cozart son of Sam Cozart and husband of Jewel Jones 4. Jewel Jones Cozart wife of John Cozart and daughter of Martin Luther Jones 5. Mary Elta Jones daughter of Martin Luther Jones, married Jess Lancaster 6. Bonne Mae Patton Blankenship daughter of Eliss. 7. Butaw Middleton Blankenship 8. Una Estella Howell Blankenship wife of Eliss 9. Ruth Elois Jones daughter of Martin Luther Jones. 10. Martin Luther Jones son of Jobe Jones 11. Frank Neisler 12. Erb Reed 13. Otis Jones son of Martin Luther Jones married Exie Cox. 14. Exie Cox Jones wife of Otis Jones. 15. Gertha Blankenship 16. Naomi Reeves Jones dau of Martin Luther Jopnes married Paul Reeves 17. Opal Reed 18. Loretta Neisler 19. Pauline Hays Jones dau of Martin Luther Jones married Ray Hays 20. Samantha Hart Blankenship mother of Eliss 21. Albert Eugene Blankenship son of Eliss 22. Fereal Eliss Blankenship 23. Ledell Blankenship Jones wife of Martin Luther Jones 24. Frank Neisler, Jr. 25. Evie Blankenship Neisler wife of Frank Neisler 26. Velt Blankenship Reed wife of Erb Reed. 27. Wilbur Ray Jones son of Martin Luther Jones and husband of Ruie Emiline Jowers (my parents) 28. Wilbur Lanoice Jones son of Wilbur Ray. Married LaRue Coffman. 29. Ruie Jowers Jones wife of Wilbur Ray and of Rev. Tom Jowers. 30. Erby Reed 31. Johnny James Blankenship son of Eliss 32. Hugh Edward Blankenship son of Eliss 33. M.L. Jones, jr son of Martin Luther. Married Kathryn Wyatt. 34. Thomas Reed 35. ? Reed 36. ? Reed
Other Gatherings at Hinson Springs
June 20, 1930 Lexington Progress
Annual Event at Hinson Springs July 4th With a first-class barbecue dinner of Meats, Breads, Pickles and Onions
We hope to have a record-breaking attendance and to have the most enjoyable program ever carried out at this popular resort. The finest of all waters is abundant and unfailing and for those who prefer there will be stands of iced drinks and ice cream.
There will be two ball games and the promise of an airplane from Bry's in Memphis.
The park will be in lovely condition and the privilege of spending the day drinking the famous health-giving Hinson waters ought to attract a great gathering of the people.--Wright & McCulley
July 18, 1930 Lexington Progress
Saturday, July 12, Broke all Records:
Last Saturday smashed heat records in Tennessee--and the night was worse, in proportion, if possible, for there were no cool places here that night. Working people reported the heat inside house to go several degrees over 100--one man testifies to 115 degrees at an oil station. At a good many homes the mercury climbed as high as 105--and Mrs. R.L. McCulley gave her resort a good name by stating that when she left Lexington late Saturday night, the mercury stood at 96 but only 88 when she reached Hinson Springs.
In Memphis alone, ending Saturday night, 13 had died from causes incidental to heat and ten more had been carried to hospitals. Coupled with this great discomfort was the disheartening fact that vegetation was literally dying, and dying fast. This in some ways, seems to be one of the greatest droughts since the year 1874.