Imogene Oakley's Scrapbook
PERSONAL INTERESTS (1935-1936 and 1940-1941)
The following miscellaneous newspaper clippings and other items were found in a scrapbook compiled by the Imogene Oakley. Sources for the newspaper clippings are not given identifiable sources are The Lexington Republican, the Lexington Progress, and the Jackson Sun. Handwritten dates in the scrapbook for the most part seem to be the date of the event being mentioned and not the date of publication. The scrapbook is now owned by Brenda Kirk Fiddler.
1935
January 27, 1935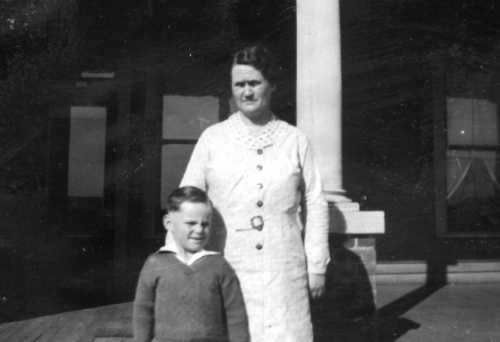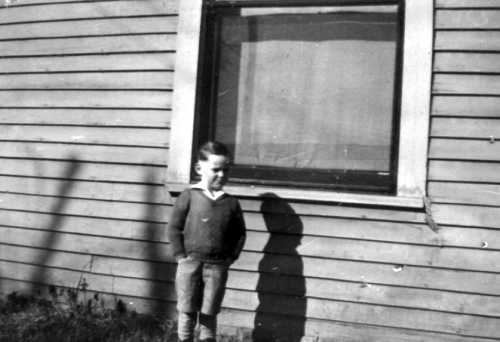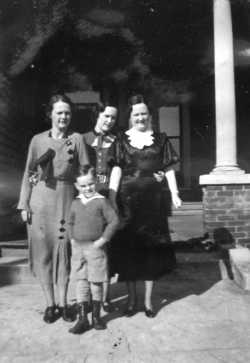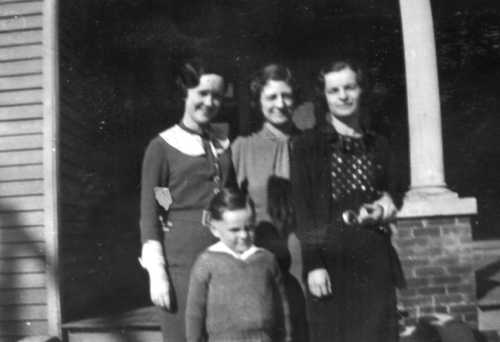 February 19, 1935
Mrs. Will White and sister, Mrs. Carlie Page, went to Bruceton, the first of tile week to see their father, J. W. Page. They were accompanied by Kim Azbill.
Undated
Maureen Barksdale is the daughter of Mr. and Mrs. A. E. Barksdale and is a Freshman at the Women's College at Montgomery. [clipping too deteriorated to scan photo]
1935
Henry E. Graper, Jr., Gets Control of Estate
Henry E. Graper, Jr., 23, of Memhis, son of the Lexington, Tenn., banker who died 10 years ago, won control over the $60,000 estate left by his father in a decision handed down by Chancellor R. B. Howell in Nashville recently. The estate, by investments, has grown to approximately $76,000, according to John P. Colton, Memphis attorney, who represents Graper.
The chancellor ordered the Fourth & First National Bank in Nashville, set up by the elder Graper as trustee, to turn over the estate to the son, although the elder Graper had sought to set up a trust fund for his son, who at the age of 13, became beneficiary of the insurance policies for $60,000.
The chancellor ruled that the will did not alter the status of the son as beneficiary, and that the trust fund provision of the will is invalid. Colton and Graper returned lately from Nashville where they attended the hearing. Young Graper lives at 2087 Courtland, Memphis. — Commercial Appeal.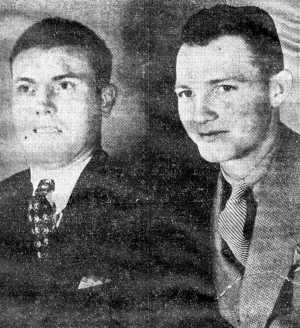 1935
Popular With Classmates
Winners of the men's popularity contest at State Teachers College were (left to right): Jesse Lancaster, best all-round man, and Julian Owen, most handsome. Clyde Gilliland (not in picture) was voted the most popular.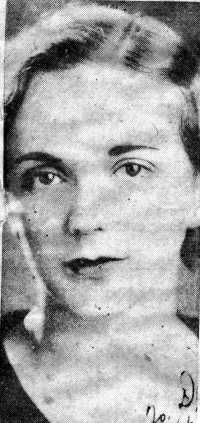 1935
Delegate
Miss Catherine Dunlap, Ridgely. Tenn., an officer in Kappa Delta sorority at U. of T., is attending that sorority's national convention in Pasadena, Cal.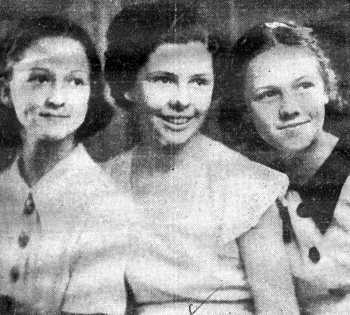 Undated
Pages for Legion Auxiliary
These pretty Jackson, Tenn., girls will serve as pages at the West Tennessee American Legion Auxiliary Conference there Friday. Left to right, Dorothy Cox, Nancy Sue Smith and Nell Barnhill.
[Note: The name Nancy Sue Smith is underlined and under it is written "Nancy Overman, Broad Street."]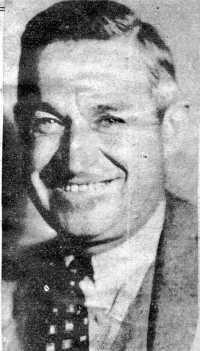 August 15
Will Rogers Says
FAIRBANKS, Alaska, Aug. 15.—Visited our new emigrants. Now this is not time to discuss whether it will succeed or whether it won't, whether it's a farming country or whether it is not, and to enumerate the hundreds of mistakes and confusions and rows and arguments and management in the whole thing at home and here. As I see it there is not hut one problem now that they are here and that's to get 'em housed within six or eight weeks. Things have been a terrible mess. They are getting 'em straightened out but even now not fast enough. There is about seven or eight hundred of 'em. About 200 went back, also about that many workmen sent from the transient camps down home (not CCC) and just lately they are using about 150 Alaskan workmen paid regular wages, but it's just a few weeks to snow now and they have to he out of the tents both workmen and settlers. Plenty food and always has been and will he. They can always get that in hut it's houses they need right now and Col, Hunt in charge realizes it. You know after all there is a lot of difference in pioneering for gold and pioneering for spinach.
Deaths in Alaskan Wilderness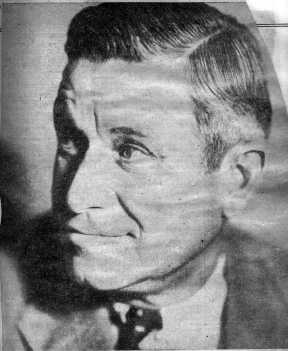 A character study of the cowboy-humorist whose stage and screen comedy,
as well as his d___ witicisms, delighted audiences composed of every class,
from prince to pauper. — Associated Press P____
December 1935
Louise Oakley Named Visiting Teacher
County Superintendent G. Tilman Stewart has just announced the appointment of Miss Louise Oakley as the new county elementary school visiting teacher. The former name of "supervisor" has been modified to "visiting teacher" according to Mr. Stewart.
Miss Ruth Norden has been acting in this capacity during the fall term but owing to the establishment of higher requirements by the state and because she could not get the required amount of work off by time the new rules go into effect, she was forced to give up the place to a college graduate. Miss Oakley is not a graduate as yet but is now taking the last quarter's work in order to be ready for her place by Jan. 1st, the date on which she is scheduled to start working.
Miss Oakley is one of Lexington's popular young ladies and has made an enviable professional reputation as a teacher during the past eight years of work in the county schools and as a business woman during several months work in the local TERA office. She Is a graduate of Lexington High School, Class of '27.
---
1936
November 2, 1936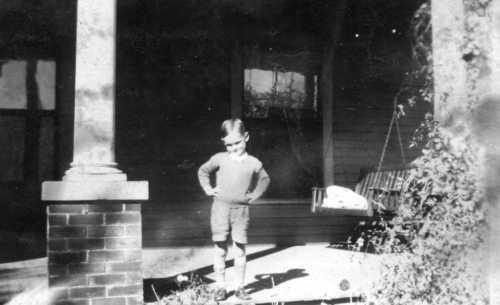 6 Yrs. Old
---
1940-1941
Note: Imogene Oakley is Mrs. Paul Essary during this time period.
Dec. 20, 1940
S. S. CLASS ENTERTAINS
The Georgia McCall class of the first Baptist Church honored two of their members, Mrs. Erliss Scott and Mrs. Tom Banks Stanford, with a stork shower in the attractive new home of Mrs. Paul Essary, on Friday night last week. Contests and games furnished entertainment throughout the evening. Mrs. J. H. Wadley and Miss Dura Lewis were winners of prizes for surpassing in the contests. The honorees were presented attractive gifts by the class.
A salad plate, with hot tea was served by the hostess, Mrs. Essary, assidted by Mrs. Pinkie Parker, Mrs. Ernest Essary ans Mrs. Irby Park.
Jan. 20, 1941
GARDEN CLUB
The home of Mrs. Paul Essary was the setting for the Better Homes and Garden club meeting on Monday afternoon.
The hostess was assisted in receiving and entertaining by the cohostesses, Mrs. Frank Holland, Mrs D. G. Hudson, Mrs. George Maxwell, Mrs. C. F. Goff. Mrs. Milton Hunter also a co-hostess was not present.
The lovely new home was open for review of the guests and was complimented for its many good features of modern arrangement.
Mrs. Essary had made her house beautiful by cleverly arranged pre-Valentine decorations, the dining table being especially attractive.
The program of the hour was to making plans for Spring gardens. Notes were taken as Mrs. Hudson and Mrs. Frank Holland spoke interestingly on the subject. A lively contest conducted by Mrs. Geo. Maxwell was another feature of the program. Mrs. Joe Smith was successful in winning the prize.
Mrs. C. F. Goff, Mrs. Joe Holmes assisted Mrs. Essary in serving a refreshment plate bearing the Valentine colors which was lovely to see and good to taste.
April 30, 1941
AT THE CLINIC
Paul Essary, who manages the Pure Oil Station on Church street, underwent an operation for appendicitis in the Conger Clinic, Monday morning, and since that time has been improving. Dr. Mason Conger was assisted by his brother, Dr. Hubert Conger, of Decaturville.
Return to Table of Contents