IMOGENE OAKLEY'S SCRAPBOOK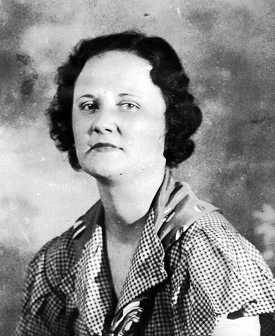 Of this photograph of herself, Imogene Oakley wrote:
"Made a week before I was 20 years old 1933, Nov. 5"
This web page presents a scrapbook created by Imogene Oakley. The scrapbook contains birth announcements, wedding announcements, obituaries, photographs, and various miscellaneous items that interested Imogene. Most items concern people she knew. Items pasted in cover two time periods — 1931-1935 and 1939-1941. Also, the items are not really in chronological order but seem to have been pasted in at a later date. The scrapbook now belongs to Brenda Kirk Fiddler.
Nell Imogene Oakley Essary Poston
(November 10, 1913-September 13, 1978)
Of Imogene, Louise Oakley wrote: "Imogene's professional career was in the field of nursing. She worked in the office of Dr. Sam Parker, Jackson and in the Haywood County General Hospital, Brownsville. After a long marriage to [James] Paul Essary, which was dissolved by divorce in1953; she married Dr. W. D. Poston of Brownsville on October 9, 1955. Dr. Poston died April 29, 196l."
The 1931-1935 period covered by this scrapbook predates Imogene's marriage to James Paul Essary.
For more information about the Oakley family, see Oakley Family, Louise Oakley; Mary Louise Oakley; The Oakley Family at Hot Springs (photograph)