REMINISCENCES OF THE EARLY SETTLEMENT AND EARLY SETTLERS OF MCNAIRY COUNTY, TENNESSEE
Gen. Marcus J. Wright
These web pages are presenting the text of Gen. Marcus J. Wright's Reminiscences of the Early Settlement and Early Settlers of McNairy County, Tennessee (Commercial Pub. Co., Washington, D.C., 1882). This work is in the public domain.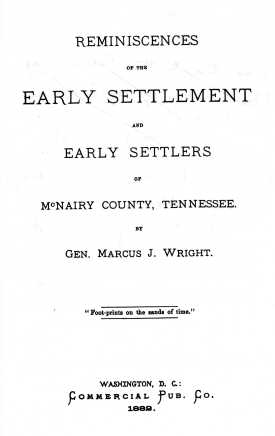 CHAPTER I.
Act of Assembly Organizing McNairy County-First Session of County Court-First Settlers-Where from-Towns and Villages in the County-Principal Streams in the County-Timber, Products-Population in 1870-Census Statistics of 1880, &c.
CHAPTER II.
Names of some of the first Settlers-The Town of Purdy laid off-Col. Purdy's Office-The first Physician, Clerk of County Court, Sheriff, Carpenter, Schoolteacher and Tradesmen-Building of the Court House, Hotel and County Jail-First Church edifices-Early School-teachers, Physicians.
CHAPTER III.
The County occupied by Indians-Western District-County of Hardin-Hardships of Early Settlers-Organization of County-Captains of companies commissioned as Justices of the Peace-The first County Court and first Chairman-The laying off of the Town of Purdy-W. S. Wisdom, Benjamin Wright, John Chambers, Col. John Purdy-First Circuit Court. Judge Joshua Haskell, Maclin Cross, Clerk-Names of early Inhabitants-Emigrants-Stores-Building of Court-House-The first Census and Population-Names of Early Settlers in all parts of the County-Names of all County Officers-Members of the General Assembly-John V. Wright.
CHAPTER VII.
History of the Presbyterian Church of Bethel-Sketches of the Families of Joshua Ferguson, Charles H. Dorion, Sr., Thomas W. Melugin, Samuel D. Pace, John L. Wilkinson, Thomas Prather, Stovall, John Rains, Allen Sweat, D. Hill, Sr., James . M Huggins, John Hamin, A. Houston, Samuel Chambers.
Return to McNairy County TNGenweb Page
Return to Yesterday's West Tennessee