Wolf Creek Ordnance Plant
Milan Ordnance Depot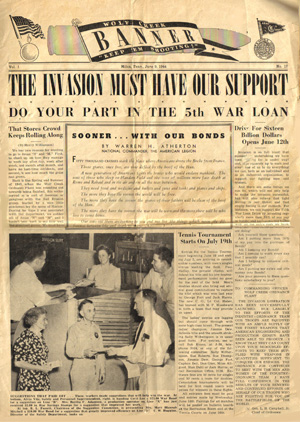 Wolf Creek Banner
The Wolf Creek Ordnance Plant played a vital role during World War II by manufacturing ammunition from 1941 to 1945. As with many similar initiatives to support the war effort, this massive effort was put into operation in record time on a 28,372 acre tract near Milan in Gibson Co. TN. It was planned and originally constructed to provide ammunition for England before the United States entered World War II.
The plant was managed and operated by the Proctor and Gamble Defense Corporation based on their expertise in packaging powders. The Milan Ordnance Depot was operated by the US Military at the same site.
The Wolf Creek Banner was published twice a month to further employee communications. Much of the material here is taken from two issues of the Wolf Creek Banner scanned by Fred Stephens.
The Wolf Creek Ordnance Plant and the Milan Ordnance Depot were later combined and became know as the Milan Ordinance Plant. It was known locally as the "Milan Arsenal." Employees were recruited from throughout West Tennessee to provide the massive manpower requirements to support around the clock operation.
Please follow the links below to learn more about the Wolf Creek Ordnance Plant and the Milan Ordnance Depot. Please contact me if you can provide any additional information or pictures about these operations.