From Lillye Younger, The History of Decatur County Past and Present (Southhaven, MS: Carter Printing Company, 1978).
Special thanks to Constance Collett for permission to make these web pages.
In Memory of Lillye Washburn Younger 1912-1998.
JOHN F. LIPSCOMB
Chapter XIV
Martha Rasbury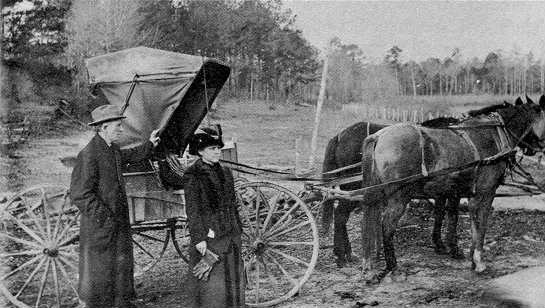 Mr. And Mrs. John F. Lipscomb leaving Mr. And Mrs. B. B. King's
on the 6th day of December 1912
John F. Lipscomb, traveling salesman for Webb Manufacturing Co. made his headquarters at the Dennison Hotel.
Through his acquaintances he met Anna Jane Tate, daughter of John L. and Martha Jane Welch of Decaturville and on November 6, 1898 they were married. She joined him and sold dyes and postcards. They traveled until 1912 when they bought a farm and moved to Hohenwald and lived there until their death. He died in 1947 and she died in 1961, leaving one daughter, Mrs. Martha Rasbury of Hohenwald, who has taught in the public school system for some time.
Mrs. Lipscomb's ancestors came from North Carolina and Virginia.
Compiled by Martha Rasbury, Hohenwald, Tenn.