CHARLIE W. PRATT
Chapter XIV
Imogene Townsend Pratt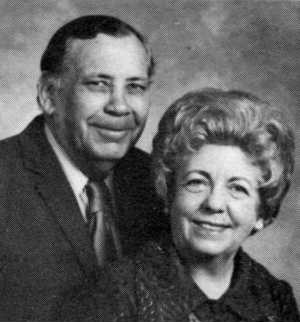 Charley and Imogene Townsend Pratt
Chariie W. Pratt, born near Darden, in Henderson County, Tennessee, July 4,1902, was the son of Mrs. Mary Jordan Pratt and John W. Pratt, both natives of Decatur County.
He was educated in Logan, New Mexico, graduated from High School in Green Forrest, Arkansas where he was very popular as a basketball player.
He joined the Navy in 1923 and served the first years on board of destroyers. In 1940 he was assigned to Recruiting Duty in Johnson City where he was serving when World War II broke out. He was sent to active duty to Kanlohoe, Hawaii, and was in charge of torpedo shots. After serving here he was placed in charge of training base near San Diego. Later he served with the Aircraft service squadron and officer in charge of Naval Airborn in San Diego. When the Korean conflict broke out he was assigned to the U.S. Aircraft Carrier Essex, one of the oldest and largest. He served aboard this Carrier until 1953.
He retired from the Navy after 30 years service in 1953 as Lt. Cdr. which he now holds.
Upon retirement he moved to Camden, Tennessee to live on his farm with his mother. He has one son, Danny Pratt.
He was very active in P.T.A. work, did quite a bit of substituting in the schools of Benton County and later was elected as a member to the County School Board. He was member of the Camden V.F.W. and American Legion.
He married Imogene Townsend Smith, November 10, 1960 and they reside at 210 Fourth Street in Parsons.
He is a member of Parsons United Methodist Church. He served as steward on the official board, belong to the Methodist Mens Club and chairman of the Audit Committee.
He is very active in the V.F.W. Post #4971, having served as Quarter Master, as Eighth District Commander, West Tennessee Membership Chairman. He promoted the first "Voice of Democracy" program in the public schools of Decatur County.
He served as City Judge and Recorder from 1962 until 1964 and later as Business manager of Decatur County Hospital. He was elevated to Administrator by the Hospital Board May 1966.
He retired in 1973 due to ill health.
Compiled by Mrs. Imogene Pratt
Resume compiled by the former Imogene Townsend Pratt.
Imogene Townsend was born July 4th, 1915 at noon on Sunday in the Community of Hog Creek, Decatur County, Tennessee. When she was three months of age her family loved to Parsons and resided at the house now occupied by W.E. Knight Sr. 401 E. Second Street for the older brothers and sisters to attend school. After the school term the family moved back to the farm.
At the age of three, the family moved to Parsons to live. It was on a cold November day in 1918 when the family moved to what is now called the Townseld Farm. The trip from Hog Creek was in a horse drawn buggy by Mother, father and sister Annie and Imogene made together. The two little girls rode in the floor of the buggy on a feather bed and held their dogs, Mutt and John.
This was a happy time since all the family were still living at home or near by.
"World War I was quite a memory for me", Imogene related. "It was July 1,1918 that I recall my two brothers, Revo and Leonard were called to serve their country. I sat on the front door step and watched them leave."
"Then soon after moving to Parsons I experienced the thrill of seeing them return home, even in uniform and I was afraid at first but soon however I was sitting on their knees, listening to them tell their favorite stories."
Farm life became too much of a chore for the parents so they bought a house on Tennessee Avenue in Parsons and moved here in 1928.
I grew up and made quite a lot of friends. Graduated in 1933, attended Union University to become a teacher as that seemed to be the main occupation for most of my family. I majored in Dramatic Art, then called "Expression".
Imogene and James Madison Smith of Decaturville married and moved into their new home built where the Methodist church is now located in Decaturville.
She taught one year in Decaturville Elementary School, substituted for several years, taught private lessons in her home in Dramatic Art for five years.
Then World War II came along. Just prior to the outbreak of the war Madison was elected County Court Clerk however he was called into service on his birthday November 24. Imogene took over the office and served here for four terms under Judge Otto Milam. Tom (Buddy) Dees was her helper. "These four years were very hard but they made me stronger in many ways." I stayed home as my Mother was with me.
After the war was over Madison returned home and we sold our home in Decaturville to Decaturville Methodist Church for their parsonage and we moved to Parsons, purchasing the old Jennings home near the Elementary school. We remodeled it and lived there from 1949 until 1968 when I sold it to Jimmy Carter.
The years in the old home were wonderful and yet I suffered a great loss by losing Madison during Christmas Holidays, December 27, 1956 in a fire that destroyed the Old Masonic Hall on Main Street and also Betty Ann's Dress Shop. This night will always be remembered by the townsmen. Another townsman, Jack Bell, local merchant lost his life in this fire however he lived a short time after the explosion.
Here my life changed completely. I lived the next four years for my Mother. We traveled and spent the winters in Sarasota, Florida.
The new year of 1960 dawned as a new life when I met LCDR Charlie Pratt, who had returned home after thirty years in the U.S. Navy. He had moved back to Holladay, near Camden to live near his Mother. We met and married in November 1960 and spent our first month in the west.
Upon our return we lived at the homeplace until after my Mother passed away in 1964.
From 1964 until 1968 I was active in the V.F.W. with Charlie. I served as State President in 1967, and National Director for Junior Girls Unit in 1969. I traveled many miles and made lots of friends, attending 14 National Conventions, 16 State Conventions in a row. I received many high honors.
During the years of my early life with Charlie I was active in church work in the District. I served two different offices, the last office was Vice President in the early 70's however I had to resign due to ill health. I am now president of the Tennie V. Arnold Circle of Parsons United Methodist Church.
Imogene organized and served as chairman of Gray Ladies at Decatur County General Hospital. She is active in the B & P.W. Club, Book Club, Home Arts Club and Parsons Garden Club, having served as president of each club. She is also an active member of the Democrat Women's Club, presently serving as Secretary. She assists in elections, the blood bank and all Charity drives.
She served as receptionist at the local hospital for two years but quit when Mr. Pratt retired from the hospital in 1973.
Presently the couple travel a lot, read, enjoy T.V. and would advise anyone to retire early and enjoy a few years before old age.
Compiled by Imogene Pratt.